If you are interested in working on one of our projects not listed below, please send an inquiry to the secretary's office or the PhDs/Postdocs involved.
Please note the "Before you apply" section.
Bachelor/Master thesis
Student Assistants / Hilfswissenschaftler
Preparation and characterization of superomniphobic polymer samples (polymer chemistry, material science)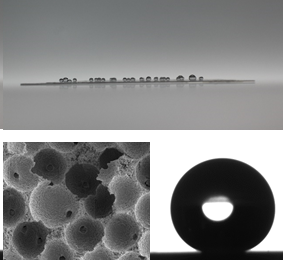 What are we doing?
Fabrication of artificial superrepellent surfaces that cannot be wetted by organic liquids is still a challanging and yet promising topic in the chemistry and material science fields. We at the chair of Process Technology of Prof. Bastian E. Rapp have developed a material called "Fluoropor" that is already exhibiting superhydrophobic properties. Now we focus on transfering our technology and evolving it further to fabricate surfaces that can even repel organic liquids, like oils or organic solvents. Water-repellant textiles, anti-drag coatings, anti-grafiti coatings or anti-icing coatings for aerospace are only few of the possible applications for these surfaces. An additional aspect of our work is to make different processing technologies as 3D-printing, spray- and spin-coating for Fluoropor accessible.
The focus of your work will be the fabrication of different Fluoropor solutions by varying different parameters. Subsequently the wetting behaviour of the surface will be investigated by measuring the contact angle of different liquids. Based on your findings you can evolve your projects and bring in your own ideas.
Your tasks
Preparation of different Fluoropor samples
Characterization of the wetting behaviours
Documentation of the data
Requirements
Interest in practical labwork, first experiences in preparation of mixtures following receipts
Further information
Please contact Andres Goralczyk for more details on this project.